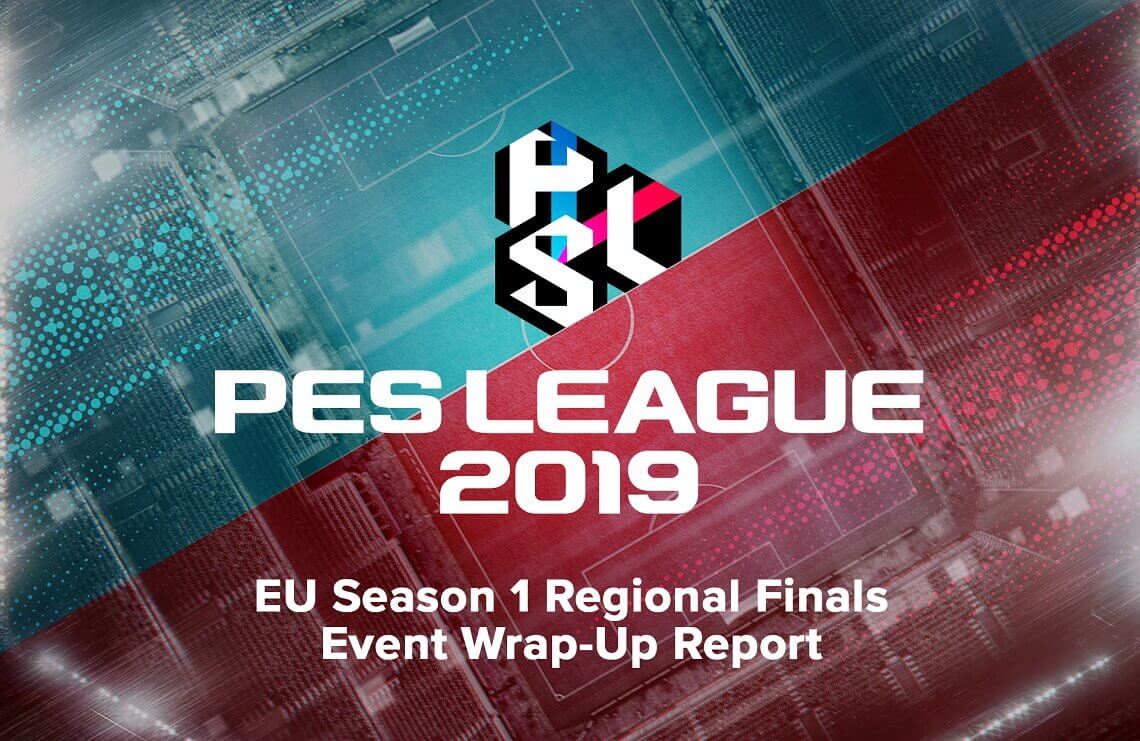 Wrap-Up Report: European Season 1 Regional Final
The PES League 2019 EU Season 1 Regional Final CO-OP & 1v1 tournaments took place in Liverpool on Friday 7th and Saturday 8th December respectively. They saw some of the world's best PES 2019 Pro Players participate for an opportunity to secure places at the PES League 2019 World Finals. Read on to find out how the action unfolded.
Co-Op Tournament
In the Clan CO-OP event, four teams (composed of three players each) participated in a league table system: the top two teams would go on to play each other in one final match to determine the overall winner and book that team's place in the PES League 2019 World Finals. The four teams were AS Monaco Esports, Broken Silence, The Demolition Machine and Never Give Up.
Broken Silence topped the table with 7 points, whilst AS Monaco Esports secured second place with 6 points – it was these two teams that played a head-to-head to determine the EU Season 1 Regional Final champion.
It was Broken Silence – a team comprising of previous 1v1 World Champion, Ettorito97, alongside the skilful alexalguacil_8 and ildistruttore-44 – who asserted their dominance in this final game. They comfortably defeated their opponents 5-1 to take the PES League 2019 World Finals place.
1v1 Tournament
14 players took part in the 1v1 EU Season 1 Regional Final, all vying for one of the two 1v1 World Final spots available to whoever reaches the Grand Final.
Players were placed into 4 groups in accordance with their previous PES League performances. They then played their group rivals, with the top two players from each proceeding to the knock-outs! These Quarter-Final games/players were as follows:
Kepapfc1994 VS W-Jorcha_W
Ettorito97 VS ReDerHugo
TioMiit_PW VS The_Palma2
E_C_Oneill VS S-Venom
Kepapfc1994, TioMitt_PW and S-Venom all scored one more goal than their opponents, to secure places into the Semi-Final. Whereas, Ettorito97 proceeded rather more definitively – putting 5 goals past ReDerHugo without reply.
Ettorito97 then proceeded to beat Kepapfc1994 4-2 in the Semi-Final, securing both a Grand Final and a World Final place! Meanwhile, S-Venom grabbed an impressive 5-2 victory against TioMiit_PW to meet Ettorito97 in the final.
Both players had booked a place into the PES League World Finals, but it was the previous World Champion, Ettorito97, who earned the title of PES League 2019 EU S1 Regional Final Champion, delivering a confident 4-0 win against his German adversary S-Venom. Congratulations to Ettorito97, and we will see both players at the PES League 2019 World Finals!
For all the results from both the CO-OP and 1v1 tournaments, click here. The Americas Season 1 Regional Final will kick-off on Friday 14th (CO-OP) and Saturday 15th (1v1). Keep up-to-date on all the action as it happens via the @pesleague Twitter.