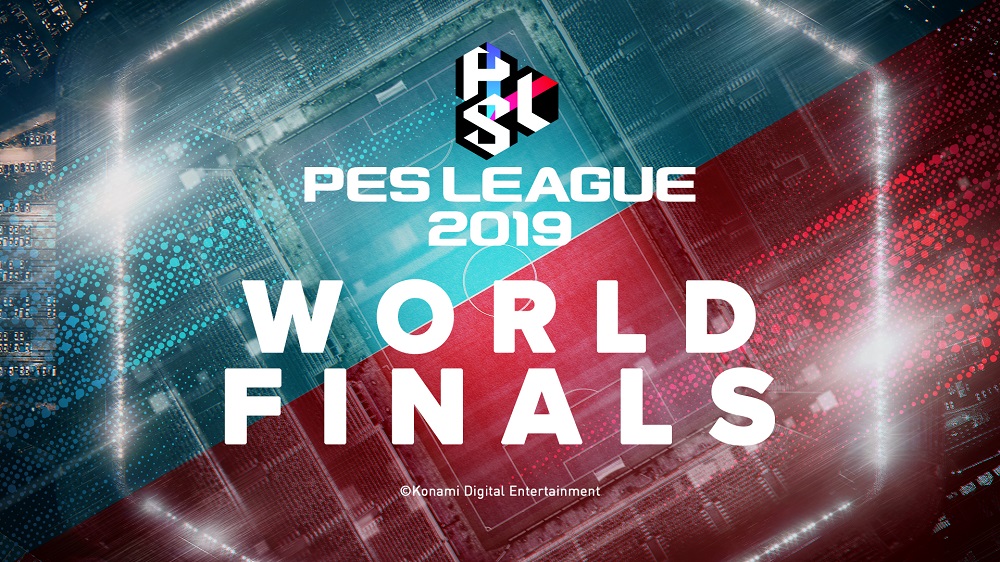 PES League 2019 World Finals Event Recap
The PES League 2019 World Finals took place at Arsenal FC's Emirates Stadium on the 28th and 29th June. If you missed our live broadcasts of the CO-OP and 1v1 action then read on to find out who took home the trophies!
CO-OP
The CO-OP finals kicked off at 14:00 BST on the 28th June. The eight competing clans were split into two groups, which were as follows:
Group A: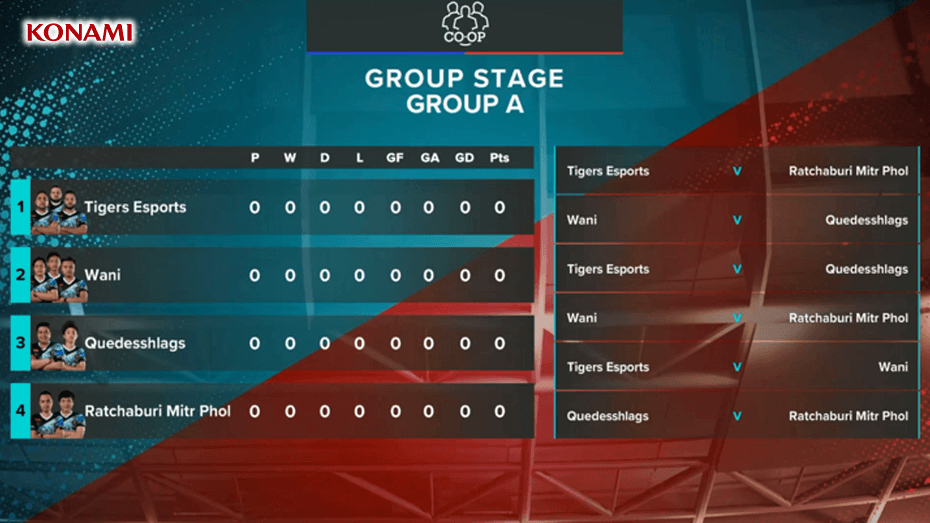 Group B: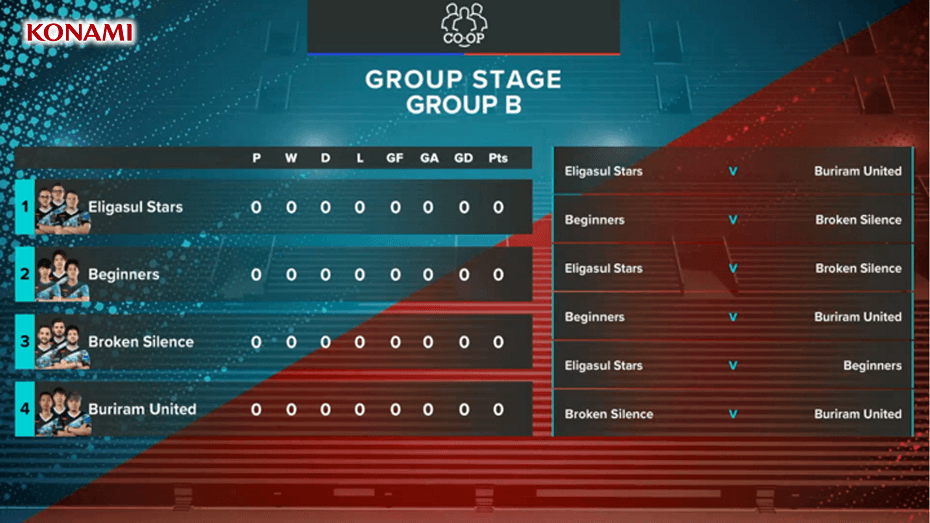 The teams would each play three group matches, with only the top two teams from Groups A and B progressing to the knockout rounds. Quedesshlags and Ratchaburi Mitr Phol FC would be playing as duos during the tournament, as the third members of their teams were unable to attend the event.
Despite the man disadvantage, European Season 2 Champions Quedesshlags got off to the best possible start, defeating Asian Champions Wani by four goals to nil in the first LIVE stage match.
The same could not be said for tournament favourites Broken Silence, the reigning World Champions suffered a shock 1-0 defeat to Asian side Beginners in the Group B opener. With two tricky games against Americas S1 Champions eLigaSul Stars and Toyota E-League qualifiers Buriram United still to come, the pressure was on.
After the second set of group fixtures, the two tables were starting to take shape. Things were looking good for Tigers Esports who topped Group A with six points and had all but secured their spot in the Semi Finals. Wani had kickstarted their World Finals campaign with a big win over two man Ratchaburi Mitr Phol FC and were now in contention for the second qualification spot, currently held by Quedesshlags.
In Group B, it was eLigaSul Stars who had the advantage. They topped the group with six points from six and looked a certainty to progress. Things went from bad to worse for reigning champions Broken Silence, who sat bottom of the group with 0 points. Their bid to retain their World Championship now depended on results elsewhere. Beginners were the favourites to join eLigaSul Stars in the knockout rounds, with three points and a superior goal difference from their two games.
After a dramatic final round of group games, the semi finalists were confirmed. Wani, Tigers Esports, eLigaSul Stars and Beginners all progressed out of the groups and would be going head to head for a place in the grand final. Defending champions Broken Silence crashed out, a 3-1 win over Buriram United in their final match was not enough to secure qualification.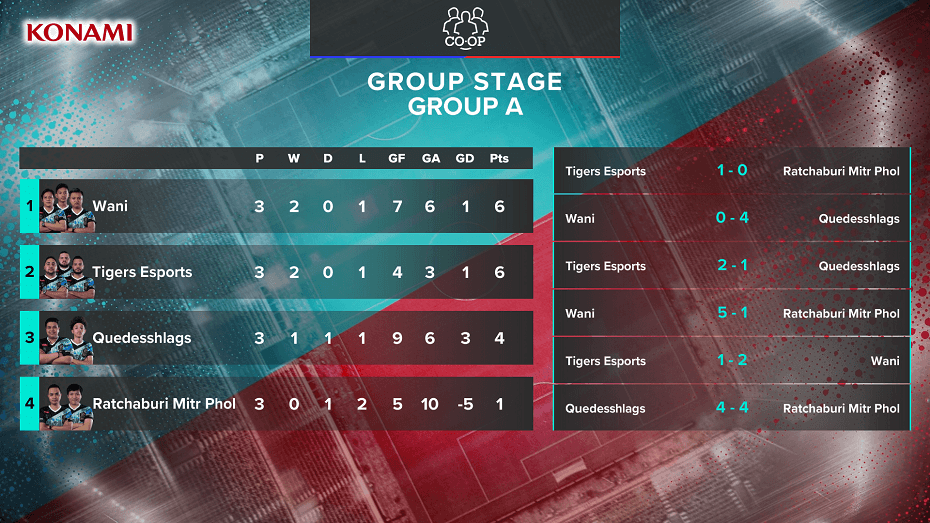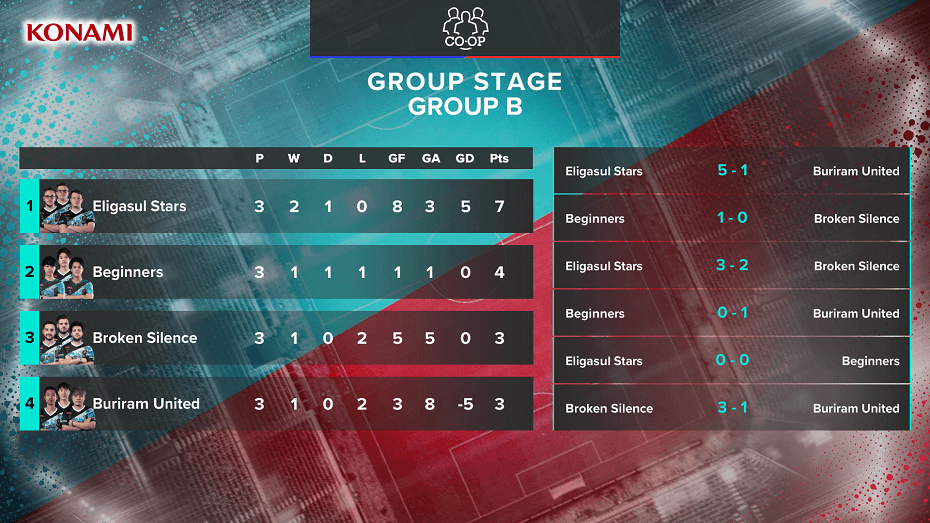 The first Semi Final saw the Americas Season 1 & 2 Champions go head to head as eLigaSul Stars faced Tigers Esports. Tigers Esports twice took the lead in the game but could not hold on as eLigaSul Stars netted a last gasp equaliser to send the match into extra time. The two sides could not be separated after 120 minutes as the score remained locked at 2-2. A console crash before the upcoming penalty shootout meant that the match had to be replayed, and it was eLigaSul Stars who would eventually book their place in the grand final with a 2-0 win.
Wani and Beginners then faced off in the second Semi Final to decide who would play eLigaSul Stars. Wani struck first in the match and Beginners could find no response. The Asian champions progressed and the CO-OP grand final was confirmed.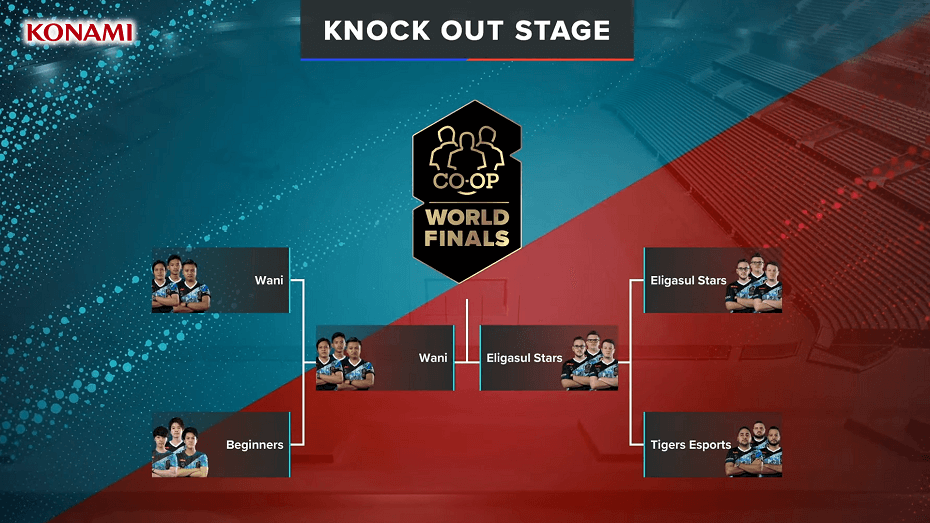 After a tense grand final, eLigaSul Stars were crowned PES League 2019 CO-OP World Champions following a 2-0 win over Wani. It was another good day at The Emirates for team captain GuiFera, who had won the 1v1 World Title in the same arena just two years earlier.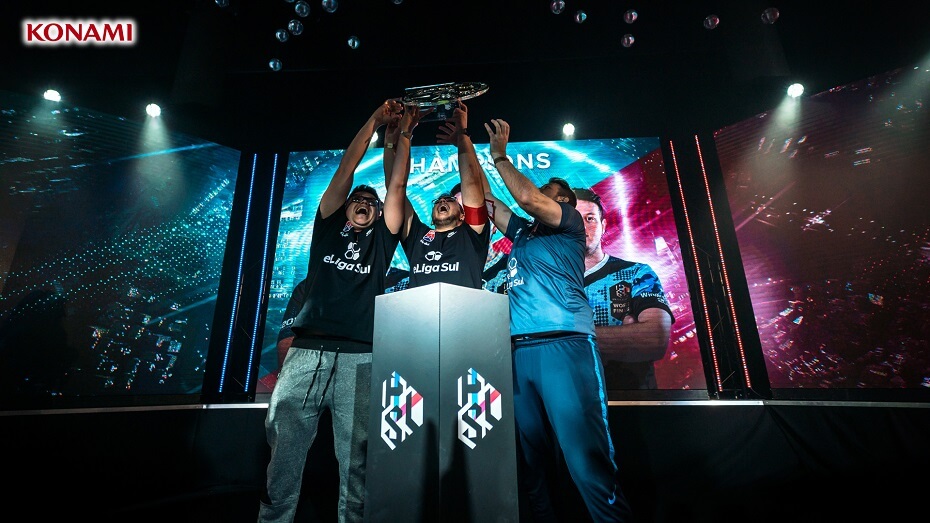 1v1
The 1v1 tournament began the following day at 11:00 BST. The competing players were split into four groups of four and would each play three group stage games. The top two players from each group would progress into the quarter finals. Toyota E-League qualifier BRUTD_Jezus was unable to attend the event meaning his Group B opponents would all receive a 3-0 victory and 3 points.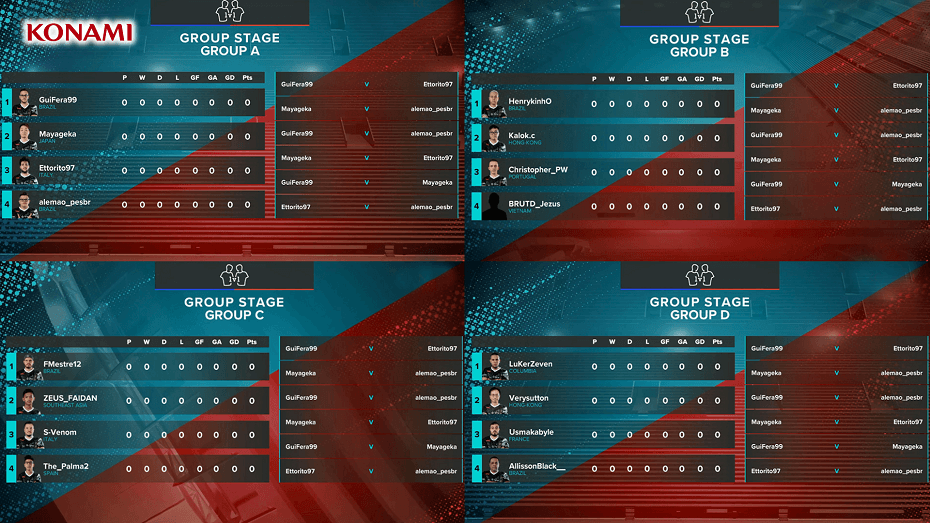 Amongst the favourites were two-time and current World Champion Ettorito, two-time World Champion Usmakabyle and 2017 World Champion GuiFera, fresh from his victory in the CO-OP tournament the previous day.
The first LIVE game of the day saw two of the aforementioned favourites collide as Ettorito met GuiFera in the Group A opener. A win for either player would deliver a strong statement of intent and it was Ettorito who emerged victorious. His bid to retain his title was off to a great start with victory over the man who bested him in the 2017 grand final. There were also wins for Henrykinh0, Christopher_PW, ZEUS_FAIDAN and AllissonBlack_ in the first round of fixtures.
Things didn't start quite as well for Usmakabyle. The two-time champion was held to a 0-0 draw by VerySutton in his opening Group D game. The Frenchman was soon back on form however, defeating LukerZeven 5-2 in his second group match.
Ettorito was victorious again in round 2, this time over Mayageka. He now had six points from a possible six and looked to be progressing into the quarter finals. GuiFera recovered from his first round defeat to Ettorito after edging past his eLigaSul Stars teammate alemao_pesbr. Henrykinh0 secured another victory at the expense of Christopher_PW whilst Kalok.c, FMestre12 and VerySutton were the other winners in round 2.
The competition was still wide open as the final round of group matches kicked off. Only two players – Ettorito and Henrykinh0 – had picked up maximum points from their opening two matches. The Italian extended his 100% record with a dominant 5-1 win over alemao_pesbr to take a maximum of 9 points and storm into the quarter finals. Henrykinh0 suffered a shock 3-2 defeat to Kalok.c in his final group game, but his superior goal difference was enough to see him through to the quarter finals along with Christopher_PW, the eventual winner of Group B.
Usmakabyle topped Group D with seven points after defeating AllissonBlack_ 7-3. He was joined in the quarter finals by runner up VerySutton , who ground out five points from his three matches. In Group C it was Asian Champion ZEUS_FAIDAN and last chance qualifier The_Palma2 who progressed to the quarter finals whilst there was a huge shock in Group A. 2017 World Champion GuiFera failed to get out of the group after suffering a 3-2 defeat to Mayageka.
With the group stages concluded, the quarter final fixtures were confirmed: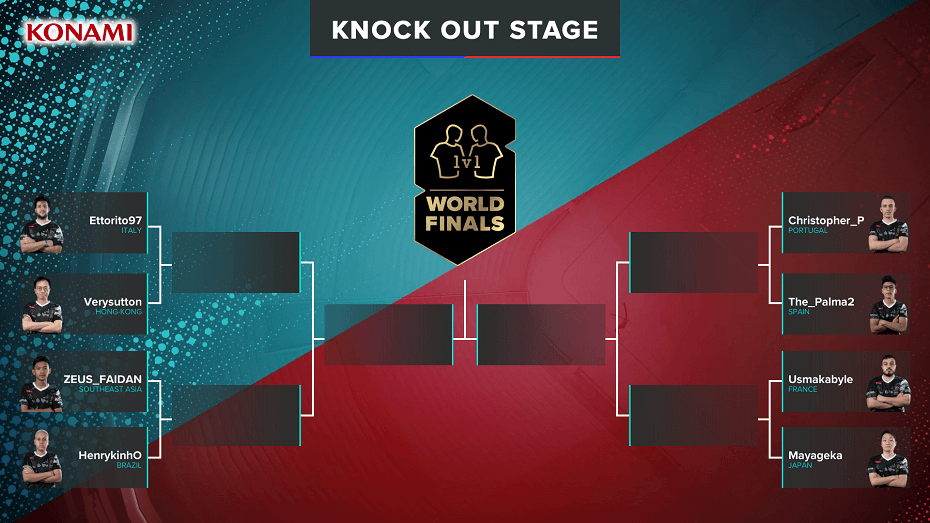 First up was Ettorito versus VerySutton. There were no shocks on the cards in this one as the reigning champion raced into an early lead. Things were only to get worse for VerySutton as Ettorito continued the relentless pressure, eventually winning by five goals to nil and taking another big step to retaining his crown.
ZEUS_FAIDAN and Henrykinh0 were next to take the stage. Henrykinh0 looked to be heading to the Semi Finals before the Asian Champion executed a remarkable comeback in the closing stages to tie the game at 2-2. The momentum was all with ZEUS_FAIDAN as the match headed into extra time and the 16-year-old made it count with two more goals to see off a devastated Henrykinh0 and set up a semi-final clash with Ettorito.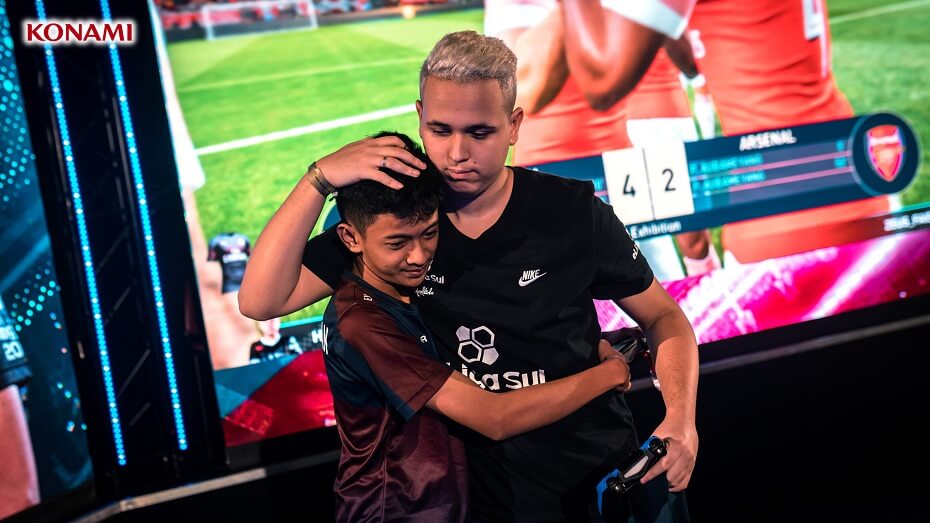 There was more drama to come in the third quarter final between Christopher_PW and The_Palma2. After 120 minutes of nail-biting action, the match was sent to a penalty shootout with the score locked at 1-1. It was Christopher_PW of Portugal who eventually advanced to the Semi Finals after slotting home the decisive penalty kick.
Usmakabyle and Mayageka then went head to head in the last of the Quarter Final clashes. A tight first half saw the match tied at 2-2 but a devastating second-half performance from Usmakabyle dashed any hopes of a shock defeat as the two-time champion booked his place in the Semi Finals.
The final four had now been decided. Amongst them were three former World Champions in Ettorito, Usmakabyle and Christopher_PW, whilst tournament surprise package ZEUS_FAIDAN would be hoping to join that elite club. Standing in his way though was the in form Ettorito…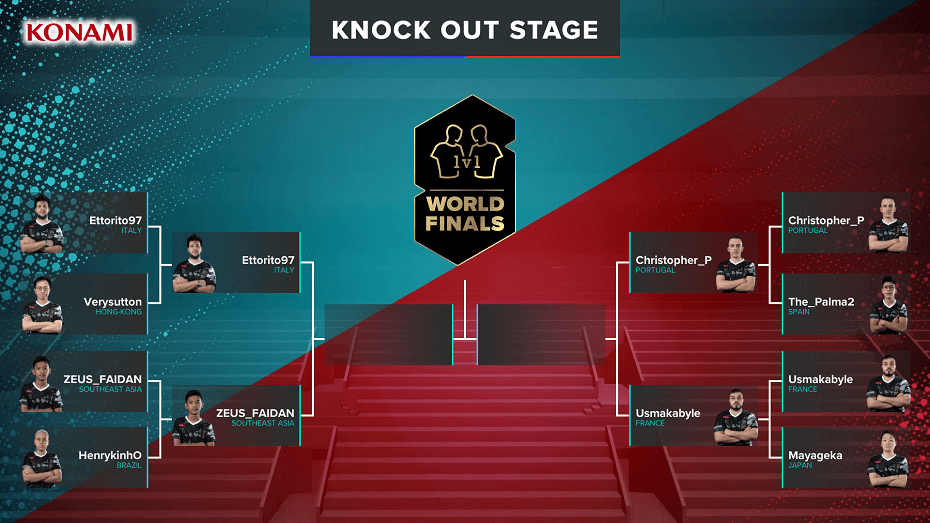 The reigning World Champion would go on to prove too much for the 16-year-old, whose excellent tournament came to an end after a 1-0 defeat to the Italian, who was into his third consecutive 1v1 grand final.
He would be joined in the final by Usmakabyle, who swept aside 2010 World Champion Christopher_PW to set up the blockbuster clash that most neutrals were hoping for.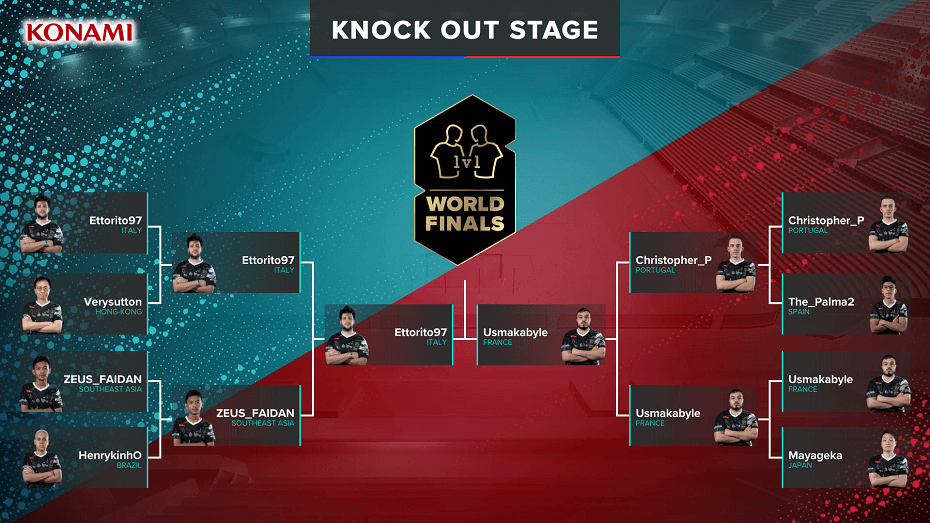 History was about to made in this grand final between two PES League icons. Both Ettorito and Usmakabyle had two world titles to their name before this match and victory for either would make them the most decorated PES player of all time. Ettorito was also looking to retain his 1v1 world title, a feat not achieved since Usmakabyle himself won back to back titles in 2015 and 2016.
The match itself did not disappoint. Ettorito twice took the lead in what was a very open game with chances at both ends, but he could not pull away from Usmakabyle, who remained in the game at 2-1. The Frenchman went on to equalise in the 82nd minute and the grand final headed into extra time. The momentum was with Usmakabyle after the late equaliser and he struck twice in the additional 30 minutes to topple the reigning World Champion and enter the history books.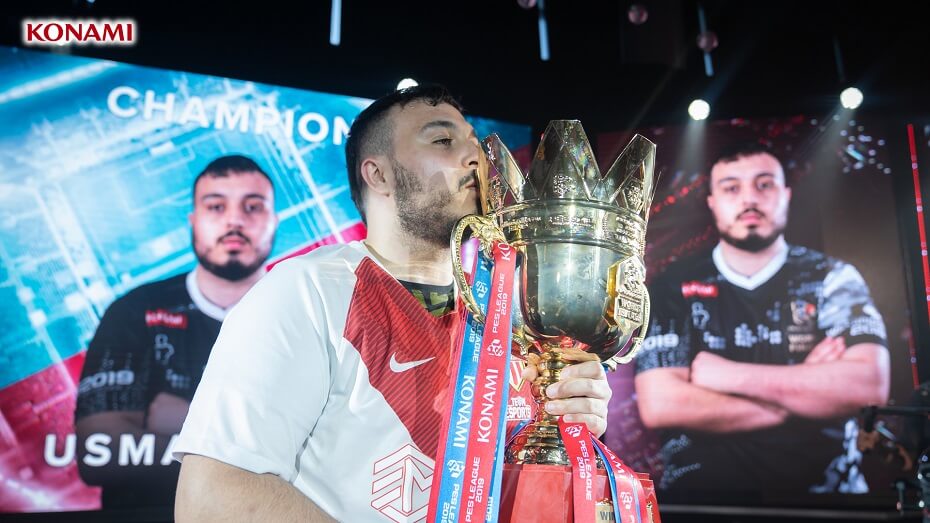 If you backed eLigaSul Stars or Usmakabyle to be crowned World Champion in our GUESS and WIN campaign, then you'll receive a guaranteed legend player for your myClub side! Don't forget to log into PES 2019 to claim your reward.
For all the latest PES League news, make sure to follow us over on Twitter.